There comes a time in every man's life when Donald Trump threatens to sue them. For me, it was Monday, March 23rd, 2015 — the day after my 22nd birthday. It seems Mr. Trump's idea of a birthday present is threatening a $100,000 lawsuit. What a goofball!

You can read the entire cease and desist letter on

Scribd

, but here's the gist of it: I own the domain name

trump.foundation

and Mr. Trump's General Counsel, Alan Garten, believes that's a violation of the "Trump" trademark. He also believes it's a violation of the U.S. Anti-Cybersquatting Consumer Protection Act.

I fully disagree with Mr. Garten's accusation that I'm infringing on Mr. Trump's trademark or in violation of anti-cybersquatting law. When I received this cease and desist letter, trump.foundation was parked on my server with no content other than the default HostMonster landing page. I have not used, nor have I ever attempted to use, the Trump brand for commercial purposes. I have not contacted, nor have I ever attempted to contact, Mr. Trump or any member of his organization(s) in an attempt to sell the domain name to him.

Today, I updated the website with a clear disclaimer that it is in not owned by nor affiliated with Donald Trump or any of the trademark holder(s) of the Trump brand. I also provided a definition of the word trump, first used in 1529 — over 400 years before Donald Trump was born (according to Wikipedia, I'd have to see his birth certificate to confirm).

Mr. Garten has given me 7 days to respond to the cease and desist. He has demanded that I transfer ownership of the domain name to Mr. Trump. Though I have yet to formally respond to the cease and desist demand, I have no intention of transferring ownership of the domain name to Mr. Trump at this time.

​

I'll be sure to provide updates as this develops.
Powered by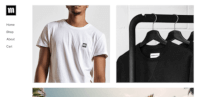 Create your own unique website with customizable templates.